Upcoming Events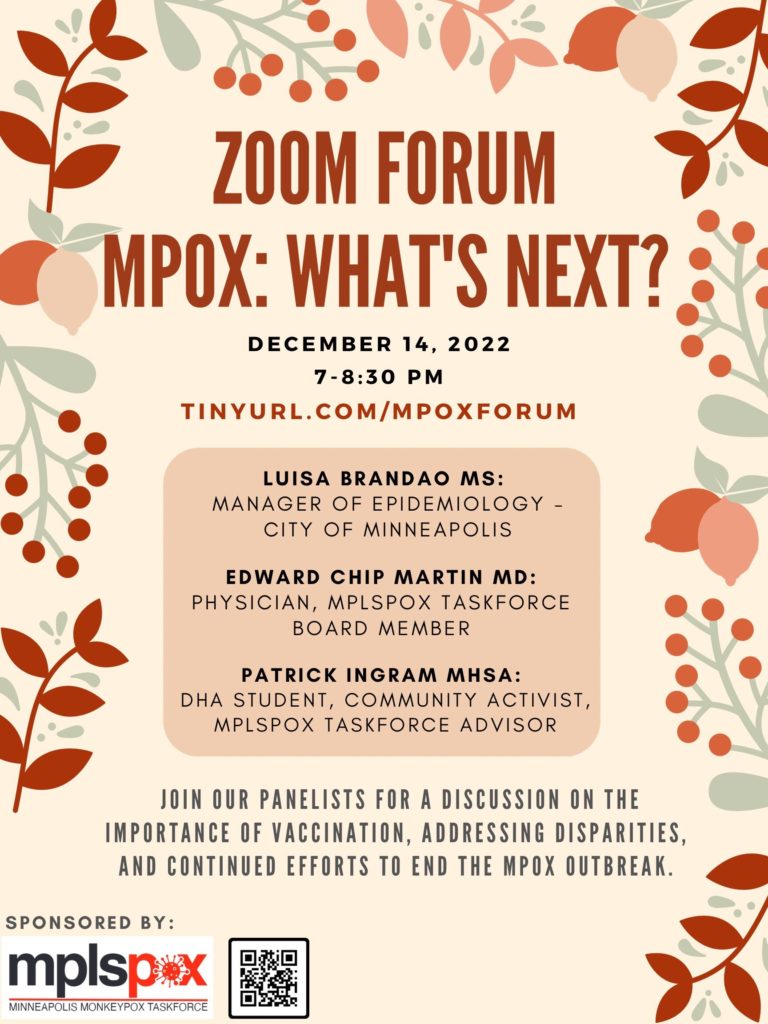 Minneapolis MPOX Taskforce is hosting our 2nd Zoom Community Forum to discuss what's next with MPOX in the Twin Cities. The Biden Administration plans to end the MPOX public health emergency at the end of January. Newly confirmed cases are down across the country with one newly confirmed case in MN in the last month.
Before we take much-needed time off for winter break, let's talk about where things stand and where we go from here:
Panelist: Luisa Brandao, MPH Manager of Epidemiology, City of Minneapolis
Edward Chip Martin, MD, Physician, MPLSpox Taskforce Board Member
Patrick Ingram, MHSA, Community Activist, MPLSpox Taskforce Advisor
Derek Johnson-Dean, CMT, CNC MPLSPox Taskforce, Executive Director
Objectives of Community Zoom Forum
What does the end of the public health emergency mean?
How do we combat vaccination hesitation?
Who is eligible for MPX vaccinations
Health Disparities–identify culturally competent people, groups, and organizations to work with BIPOC, LGBTQ, and other populations experiencing disparities in Mpox vaccination efforts.
We will not be spending much time talking about the causes of health disparities, those of us on the panel are ready to come up with action steps to address them. If you want to do homework before the forum might I suggest the following article by National Data Shows Continuing Disparities in MPox Cases in Vaccinations Among Black and Hispanic People. A good friend and advisor told me that we like to "fetishize disparities". Rarely, does the conversation lead to action steps as we will do on Wednesday, December 14, 2022.
If you're interested in more general information about MPox, please view, or read the transcripted for our previous form MPOX: Sorting Myths from Facts View a transcript of the forum, or watch the forum here.
Despite this great news, MPOX is here to stay. We still need to educate ourselves on the signs of symptoms of MPOX through formal and informal conversations. We need to insure that when a random appears that information on treatment is widely available. At this stage if you are eligible for JYNNEOS (MPOX) vaccination you probably will be okay but why risk it? MPox is painful and can be disfiguring with the scares that they can leave.
Minneapolis MPX Taskforce, Fairview Health, and African American AIDS Task Force – MPX and Flu Vaccination Clinic @ 1900 Nicollet Ave, Minneapolis – Monday, November 14, 2022 from 4:30-7 PM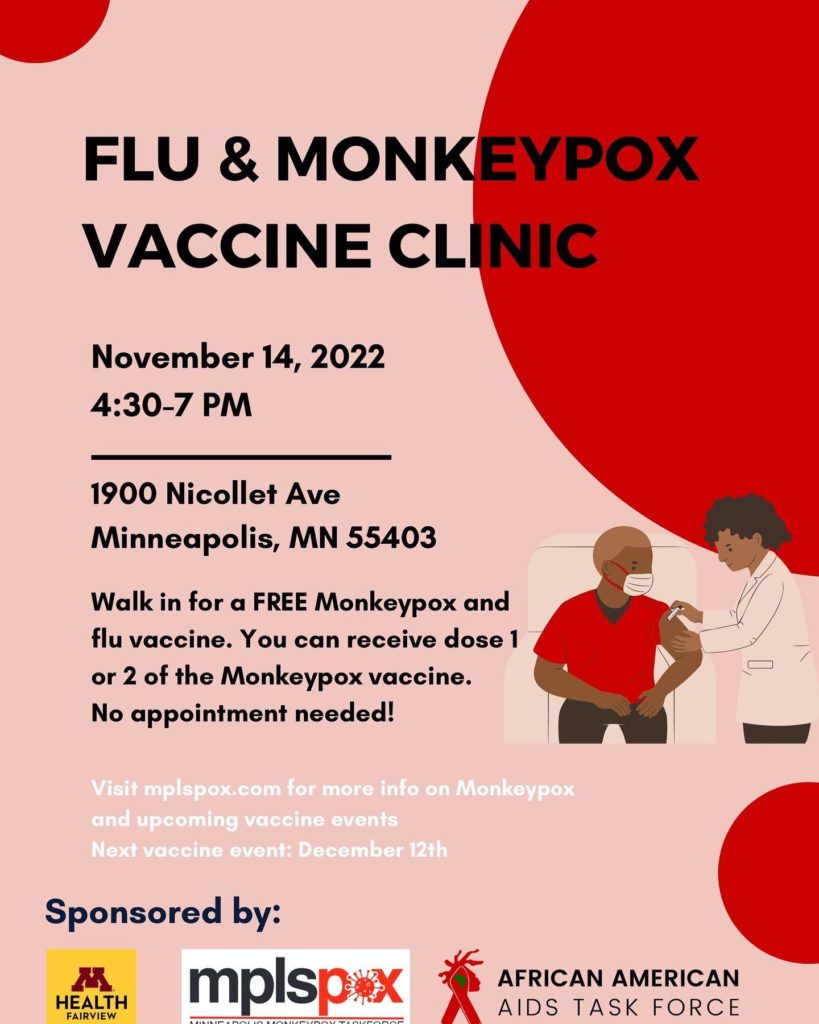 Past Events
Minneapolis MPX Taskforce & Fairview Health MPX and Flu Vaccination Clinic @ Columbia Heights Pride – Saturday, October 8, 2022 from 11am – 3pm
The Minneapolis MPX Taskforce partnered with nurses at Fairview to offer both flu and mpox vaccination.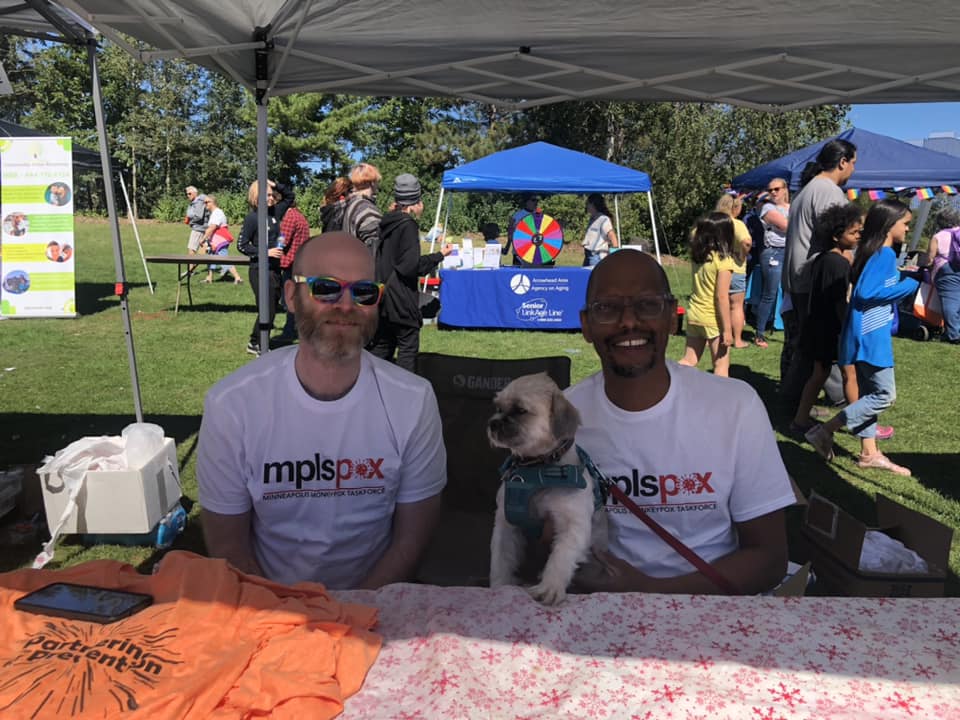 MPX Community Forum: Sorting Myths from Facts
The Minneapolis MPX Taskforce is hosting a Zoom Community Forum on:
Wednesday, September 21, 2022 7-8:30p

View a transcript of the forum
Forum Panelists
Keith Henry, MD, Physician, Infectious Diseases
Luisa Pessoa-Brandao, Manager, Epidemiology, Research, Evaluation, and Emergency Preparedness, Minneapolis Health Department
Patrick Ingram, Community Health Specialist, Red Door Clinical Services
Pam Layton, Nurse Practitioner, Red Door Clinical Services
Moderator: Derek Johnson-Dean, Executive Director, Minneapolis MPX Taskforce
Objectives of Community Forum
Learn about cases of MPX in MN
Answer frequently asked questions
What to do if you think you have an exposure
Ways to prevent and/or reduce your risk
Who is eligible for MPX vaccinations
Suggestions for symptom management
Discuss the health disparities in MPX testing, vaccination, and treatment
This is your opportunity to hear from, and ask questions of, MPX experts in Twin Cities.
How to Register?
Please use this link to RSVP if you would like to attend the forum as a viewer. You will receive a confirmation with Zoom login information.
Post St.Cloud Pride Vaccination Clinic – 9/22/2022
Despite our best attempts it wasn't possible to offer MPX vaccinations at St.Cloud Pride however Minneapolis MPX Taskforce and CentraCare in St. Cloud are partnering to co-host a Post St.Cloud Pride Vaccination Clinic on Thursday, September 22, 2022 from 8am-4pm. If you did not reserve a stop on Saturday please call Katie Galarno: 320-654-3633 or e-mail lgbtqmedicine@centracare.com to reserve your vaccination appt. You can book other days for your vaccination if September 22, 2022 doesn't work for you.
If you are interested in hosting a vaccination clinic for a group of people at risk and currently eligible for a vaccination, please contact Derek Johnson-Dean, Executive Director at 612-424-2231, or email: info@mplspox.com. In the subject line type "MPX Vaccination Clinic". We are partnering with nurses trained from Fairview M Health to give the Jynneos .
If you have questions or have info that would be helpful for us, please e-mail: info@mplspox.com or text/call 612-424-2231.